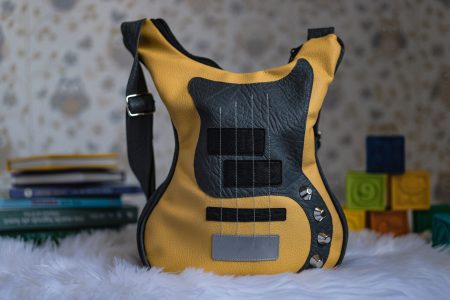 Sunny Slap
59,00 €
Rock Kids Backpack
Hey there, fellow music-loving kiddos! This backpack is the ticket to elevate your style and make your leisure time truly legendary. Are you ready to take your free time adventures to the next level? Rock your world with this unique yellow bass guitar backpack that's all about style, music, and pure originality.
Tired of the same old backpacks? Our Rock Kids Backpack isn't just a bag, it's a piece that express your unique personality. Let your love for music shine through and show the world that you're a true rockstar, even during your downtime.
MEASUREMENTS
The bag is available in one size
Medium: 35 x 27 x 7 cm (13,77 x 10,62 x 2,75 Inches)
Our Rock Kids Backpack boasts a vibrant combination of yellow and grey that's sure to turn heads wherever you go.
Craftsmanship That Rocks:
Each backpack is meticulously handcrafted, making it a true work of art. Decorated with sewn strings and bass guitar elements, it's not a regular backpack, it's a product that reflects your passion for music.
Originality Meets Sustainability:
Made from the softest Italian leather, our backpack is not only a symbol of originality but also an eco-friendly choice. There's absolutely no toxic smell to worry about.
Built to Endure Your Adventures:
Designed for free time fun, our Rock Kids Backpack is built to last. The secure zipper closure ensures your belongings stay safe, and the adjustable straps guarantee maximum comfort during your escapades.
Organized for Maximum Fun:
Inside, you'll find  one compartment with a pocket to keep your essentials organized. Say hello to your trusted companion for all your leisure activities.
Rock and Roll Lifestyle:
With the Rock Kids Backpack  you're carrying your stuff and your passion for music. It's the perfect companion for your free time adventures like picnics in the park, music festivals, or spontaneous jam sessions.
So, if you're ready to infuse each moment of your leisure time with an extra dose of awesomeness, then the Rock Kids Backpack is your gateway to unbridled style and sheer originality. Refuse to be ordinary when you can be the extraordinary! Become a member of our tribe of music-loving enthusiasts and set the trend amongst your circle.
Don't wait a beat longer – secure your very own Rock Kids Backpack today and broadcast to the world that you're an authentic rockstar, even during those precious moments of relaxation. Keep the rhythm alive! 🤟🎶
| | |
| --- | --- |
| Weight | 0,45 kg |
| Dimensions | 7 × 27 × 35 cm |
| Size | medium (35x27x7) |